Blog Archives
Harry Redknapp will never take any responsibility for Tottenham's failings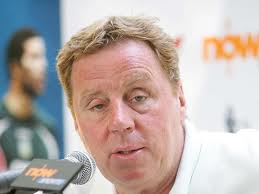 As unpalatable as their team's defeat to Manchester City was yesterday, it will have further irritated Spurs' fans to hear their manager blame 'Luka Modric-gate' for the humbling his side received. As disruptive as having one of your best players courted by another team is, it's unfortunately now a part of the game, and you have to develop some kind of resistance to it. It's not good enough just to shrug your shoulders and make accusatory noises about 'heads being turned' and 'unrealistic wages'.
This is a theme with Redknapp, because all his merits as a manager are undermined by the same deficiency – an inability to recognise when he's wrong. When Spurs dominate a game at White Hart Lane without scoring and then concede a sloppy goal to a lesser team, it's always explained away as just being 'one of those days'. Much like yesterday; the team he has constructed and put on the field were second best – and if Luka Modric's state of mind was so destabilising, why was he playing? Instead though, he hastily fashioned an excuse out of a 'poor pre-season' – right, well you planned and executed that pre-season, so have a word with yourself.
There are three more days left of this transfer window, and Redknapp would be better served identifying players that can actually improve his team rather than simply playing the victim card in response to Chelsea and Man City's affluence. Yes Harry, it's not a level playing field anymore, but if you're unwilling to come to terms with the realities of the modern game, then it's time to go.
Steve Kean needs to go now
It's pointless to debate whether Kean or the current owners at Blackburn are more to blame for the position the team finds itself in – that's the reality, and the manager is the only variable in this situation. Yes he's had a lack of financial support, yes the team has been weakened by injuries, and yes the owners don't seem to be delivering on any of the promises that were made – but ultimately it doesn't really matter, because the owners will blame him before they look at themselves.
This team will not stay in the Premier League with Steve Kean as their manager, that's an absolute certainty.
It's time to recognise Roberto Mancini's abilities as a manager
…because he's done an extremely good job. Unfortunately for him, what he's achieved is always suffixed with the amount of money he's had to spend. Fine, endless resources of course make the job a lot easier – but with big spending comes big egos, and with big egos comes the need for very astute man-management. Couple that with the expectation that weighs on his shoulders, and you really have to admire what he's managed to build.
Edin Dzeko is a case in point. You don't become a £30m player without a decent sense of how good you are and without a sizeable chunk of self-belief – and you probably don't expect to spend six months in and out of the team you've joined. That Dzeko exploded into life yesterday is credit to his manager, because there are plenty of his contemporaries that wouldn't know how to deal with such an expensive fringe at their football clubs.
There was a specific moment when I started liking Roberto Mancini and admiring what he was doing – when he hauled off Mario Balotelli in the friendly against LA Galaxy. That was a manager with authority, treating his players as employees – 'no, you don't behave like that – I don't care how much you earn'. Love it, there's not enough of that in the game.
If City were a boxer, then last season they were too quick to cover-up and too hesitant to start swinging. This season, they have the same defensive nous, but with an added patience and stinging right hand that they now know how and when to use. The difference between the Tottenham fixture this season and last season shows how far City have come – and Spurs will not be the last team that are left dazed and confused by Mancini's side.
Chelsea will not win anything this season
Because they're just not elite anymore Whether that's relative to both Manchester clubs, or just an accurate assessment of where that squad is you can't be certain – but right now, they're not even a contender. Barring something dramatic happening in the next two days, there's no reason to believe that they won't also be mauled at some point by City and United. To varying degrees, they have so far looked vulnerable against West Brom, Norwich, and Stoke – that's not particularly encouraging. Truthfully, the spine of that team is creaking, and the players that could be relied on to produce individual game-winning moments – Drogba, Lampard – are now in steady decline. Yes, Juan Mata's a good player, and Luka Modric will probably give them something – but neither of those two is going to win you a Championship.
Four years have now passed since Jose Mourinho left Stamford Bridge, yet the team is still built in his image. In comparison, look at the evolution that has occurred in the same time span at Manchester United, Manchester City, and even Liverpool. Gradual, incremental changes have gone on everywhere else except at Stamford Bridge – that's why they are where they are now. The purchases of David Luiz, Fernando Torres, Juan Mata and potentially Modric, clearly show that this is recognised at Chelsea – but you just can't change a team that quickly – these types of players should have been integrated over a longer time period, and not brought into the club in the panicky way that they were. Of all the transfers, Torres' move south best embodies this. Having lost the fear factor that won them so many points under Mourinho, whoever decides on the buying policy at Chelsea – and it's not the manager – threw some money at a 'name' player that was playing the worst football of his career. It's all gone a bit 'Galactico-era Real Madrid' at Chelsea, which is ironically completely the opposite approach of what brought them success – Didier Drogba, Frank Lampard, Arjen Robben, Michael Essien – all of those players grew into what they would become after they had been brought to the club.
This is the downside of having a very wealthy owner – there's no room for the kind of patience that's needed to build a proper team, so everything becomes very short-term.