Outstanding level of nonsense from Andy Dunn, Chief mockney b****cks-merchant at The News of The World, this morning. Jumping into the 'City spend money recklessly' discussion, a mere three days after it happened, he reasons that Sir Alex Ferguson is in no place to comment on transfer policy, or in his own words:
For a bloke that lavished £24M on Juan Sebastian Veron and emptied £30Mout of the Old Trafford coffers to secure Dimitar Berbatov, that is a bit rich.
As anybody who has seen Sky Sports' eye-wateringly smug 'Sunday Supplement' program will know, Andy of course is a Chelsea fan – and one who has a tendency of bending the truth around his allegiance. He reasons that what happened on the Fulham Road during the early-Abramovich years bares no resemblance to the present day at Eastlands, as:
(Chelsea's success) has still been founded on the axis of two club stalwarts, John Terry and Frank Lampard.
Not to be pedantic Andy, but a couple of things…
We're fairly certain that Frank Lampard started his career at West Ham, and that Chelsea spent £11m on him at a time when the club could only just afford to pay the groundsmen.
Is that the same Juan Sebastian Veron that Chelsea would later spend £15m on, before loaning him out and then eventually allowing him to leave the club for free?
Would it also be fair to say that at no point during the Abramovich years has anybody had due cause to refer to a transfer involving Chelsea as 'a good bit of business'.
It is of course only right to point out that Chelsea went about their spending in more of a 'team-building' way than the 'star-f***ers' in blue, but the criticism of the instant-gratification culture that exists at City is still deeply hypocritical. Just as Roberto Mancini is doing now, Chelsea spent vast sums of money on fully-developed players that would give them the quickest route to success ( Carvalho, Paolo Ferreira, Crespo, Makelele, Essien ) – and they did so in the same 'cluster-bomb' manner. For every success like Drogba, there is a Veron, Shevchenko, Damien Duff, and Shaun Wright-Phillips.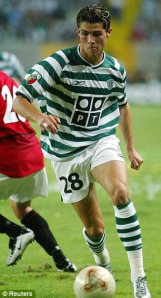 The difference with Ferguson at Manchester United has always been his promotion of an 'embrace, develop, and nurture' policy – there are very few examples of players that haven't left Old Trafford as better players than when they arrived, nor are there many that have been sold on for huge net losses (Ince, Stam, Cristiano Ronaldo). Ronaldo is probably the best example, the £12m spent on the spotty, self-indulgent teenager is probably the best bit of business the club ever did – both in terms of what was achieved during his tenure and the colossal profit made on his departure. Furthermore, for every obvious bust like Veron, there is a Denis Irwin, Lee Sharpe, Eric Cantona, and Ole-Gunnar Solskjaer for Sir Alex to counter with.
Probably not 'a bit rich' for him to comment is it.