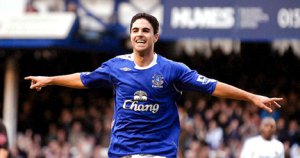 As we mentioned a couple of weeks ago here, Mikel Arteta qualifies to play for England through the residency rule. Interestingly enough the BBC has reported that the Spaniard would be 'open' to a call-up, with him quoted as saying:
"If one day the opportunity comes obviously I would have to consider it very seriously"
Given that the queue to play in Spain's midfield seems to get longer every season, this might represent the only chance the Everton player is likely to get to play International football. Other than the typical objection that will be shown by 'In-Ger-Land' fans, the national team could do worse than a midfielder that can actually keep possession of a ball.
Gareth Barry – Ye be warned.